Due to general craziness of my life at present I haven't had much time to wine and dine myself in the Capital. I have, however, had the time to do some online browsing to compile my AW shopping list (note the word BROWSING is used, boo)....
Now, being a curvaceous woman (er, hello, I do actually EAT food in case you hadn't already guessed) my natural curves limit me to what I can wear without either a) making myself look like Ten Tonne Tess or b) like i belong in the circus. This usually means that I am also limited to what high street shops I should even bother to look in as they all cut their clothes slightly differently to each other - regardless of them insisting that they use the same templates.
River Island is generally NOT a shop I can shop in. Don't get me wrong, in the past I have managed to find the odd item that looks nice on but their clothes are usually far too tight (think of sausages and that's what my legs look like in their jeans) and up until my student discount card expired last month *sob* I generally gave this place a miss to save my purse 10%. But, I am very much impressed with many items from their latest fashion 'drop' and for the first time since my young teenage years I am anxious for pay day so I can make a purchase from RI
Here are the two items i most certainly will be snapping up in preparation for the colder months...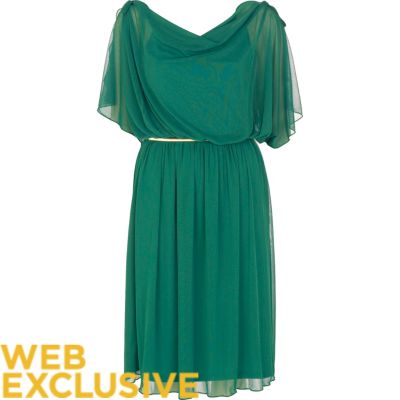 Green Chiffon cowl front dress £40
On trend colour? Check. Flattering chiffon arms to cover up 'bingos'? Check. Nipped in waist? Check. Flattering length for us girls who don't have Kate Moss legs? Check. Free belt? Check.
This dress is DIVINE and sooo glamorous. I would wear this with a fantastic blow-dry or a sweeping up-do, Black tights when it gets cold but bare legs for now and lots of rings and black heels
.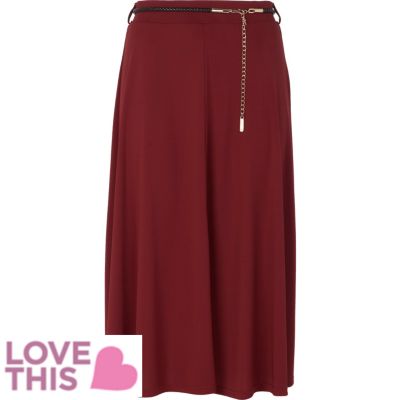 Red mid length a-line belted skirt £30
Again, GREAT length for any girl. Fabulous now with flats and a tee shirt tucked in.. and wear later with thicker tights (I have my eye on some lovely ash coloured wolford thickies) and those wedge boots from Topshop that i blogged about in my last fashion post. Throw on a jumper and you are good to go! Plus that belt is so cute!
I actually am really looking forward to winter seeing as this summer has so far been a EPIC FAIL on all counts barr that one week where it was like 30 degrees. I am going to attempt to embrace the winter and its harshness.... rosy cheeks are massively cute and also save a fortune on blusher and it will give my bronzer a well earned rest as i attempt to look sun kissed on a drizzly august day. Failing that, theres always the thought of a lovely cosy pub/restaurant to hide out in... no more fighting for outside seating on a Friday night in London!
Hoping to check out south bank and its culinary delights this weekend.. Promise to post soon
Lots of Love
xxx TTN xxx